Research Firm Feedspot Taps IES-Sponsored Podcast for Exceptional Content and Reach
September 28, 2018 – Vienna, Va. -The Institute for Excellence in Sales (IES) announced today that the IES-sponsored Sales Game Changers Podcast was recognized by Feedspot in its "Top 15 Sales Podcasts You Must Subscribe and Listen to in 2018." Hundreds of sales podcasts were considered.
Feedspot CEO Anuj Agarwal said, "This is the most comprehensive list of best Sales Podcasts on the internet. The Sales Game Changers Podcast and the other 14 were selected based on several factors such as the following."
Podcast content quality
Post consistency
Age of the website
Average number of shares on social sites for your posts
Traffic of your podcast and more.
Fred Diamond, IES Co-Founder and President, and host of the Sales Game Changers Podcast, said that interviewing so many sales leaders in less than a year and offering great stories, tips and advice was one of the top experiences of his career. The podcast featured interviews with over 100 sales leaders in its first year from companies such as Microsoft, Salesforce, Amazon, Verizon, Kimpton Hotels and many others.
"I tell people if you want to be happy, interview dozens of high-achieving successful people each month. The stories and tips they have shared have been phenomenal, emotional and inspiring," said Diamond.
Diamond said the response to the podcast had exceeded his expectations with listeners coming from around the globe.
"We focus on a niche that wasn't being covered by the podcast world. A big part of the IES business is helping sales leaders hire, retain, motivate and elevate top tier sales talent. By being able to present sales leaders as people you'd like to work for, we're helping them make those missions easier," said Diamond.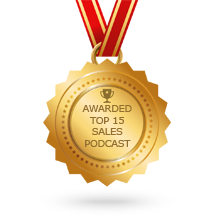 Diamond said that with few exceptions, most episodes, which broadcast on Tuesdays and Thursday, feature interviews with Business-to-business sales executives. One out of every 15 episodes will feature an episode with a sales topical expert, such as this episode on sales analytics with Tableau sales director Ed Beaurain.
For more information on the Sales Game Changers Podcast or to be considered as a guest, click here.
About the Institute for Excellence in Sales
The IES provides a wealth of services to sales leaders and their teams at companies large and small throughout the Mid-Atlantic region and across the U.S. It is an unbiased and trusted partner for the delivery of sales programs, speakers, training, services and products. Contact the IES at www.i4esbd.org. A complete list of upcoming IES programs can be found here.